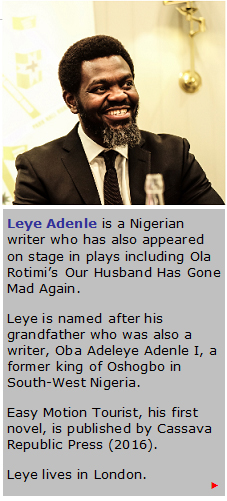 Leye Adenle - Writer & Actor
…by the village and at the University of Ibadan in Nigeria and the University of East London.
…standing in for my father at his printing and publishing company. All his children 'worked' at the press at one time or another and we were all expected to do everything he would do, like take decisions, receive payments, negotiate contracts, pay staff salary. I was about 16 at the time. I got paid in food and continuous tenancy under his roof.
….teach people how to be awesome. By day. By night I write my beautiful black behind off. It's like I've got two identities; the normal me who works as an Agile Coach /Project Manager, and the real me who sheds the disguise to reveal the true self, the writer.
What I learned along the way is…
…that it is possible to have a life and live it.
The greatest influence on my life has been…
…the times I've failed. I have learnt more from failing than from succeeding. I'm failing less and succeeding more. It is possible to fail less while not succeeding more.
The best advice I ever received is…
…'be yourself.' This turned out to be the worst advice because at the time, the worst thing I could be in the situation was myself. But I took the advice, got burnt, learnt an invaluable lesson, namely, it is not always a great idea to be yourself, and for this reason it has turned out to be the best advice I ever got.
My top tips for succeeding in my career area are…
…be passionate and don't be afraid to fail. Be truly passionate. Feed your passion. Do not be afraid to let your passion show. And fail. Fail because your try new things. Fail because you move faster than others. Fail and fail fast. And let your failures land you ahead of the race
If you would like to nominate an inspiring personality for a '5 Minute Interview' please contact us at editor@reconnectafrica.com