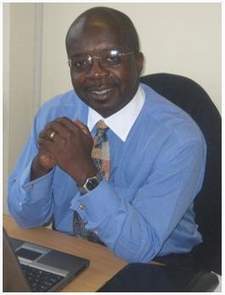 Kwamena Bentsi-Enchill
Programme Manager
I was educated at....
.... Achimota School and the Kwame Nkrumah University of Science and Technology in Ghana and Henley Business School in the UK.
My first job was....
.... as an engineer with Shell, in Ghana.
What I do now is....
.... work in Qatar as a Programme Manager with Qatar Petroleum. The company is going through major developments both on the engineering and the business sides, so it's good to be in the thick of things right now. I will say, however, that starting the working week at 6.30 on a Sunday morning takes some getting used to!
Kwamena Bentsi-Enchill (popularly known as Ato) was born in Ghana. After an early childhood spent in the United States, London and Lusaka, he went to Achimota School. After earning a degree in Chemical Engineering from the Kwame Nkrumah University of Science and Technology, he joined Shell, working in the downstream petroleum industry in Ghana.
After a few years, he re-embarked on his educational journey and went to the Henley Business School. He did not find the MBA course particularly stimulating – in his words, "a confirmation of the basic common sense I learnt from my parents and my elder siblings".
After a time spent with a computer company in the early days of personal computing, part-time teaching (Adult Education business courses) and then construction project management (Canary Wharf), Kwamena joined Powergen (now E.ON UK), working first as an Electricity Trader and then as an IT Project Manager. Wanting to deepen his involvement with information technology, he left Powergen and started a career in the IT consulting industry.
From there he set up his own business, an IT consulting firm, dealing mainly with small and start-up businesses in London.
IHe found this work particularly rewarding, but it was disrupted by the discovery that he had cancer, which was eventually successfully dealt with by surgery.
On returning to work, he undertook assignments with the National Health Service in London as an IT Project Manager for three years before returning to where he started – petroleum. He is now working with Qatar Petroleum as a Programme Manager in Doha, Qatar, a role Kwamena finds challenging and stimulating.
What I learned along the way is...
....that hard work, basic common sense and sound principles open a lot of doors; but unfortunately not all. Good luck also plays a role.
My greatest influence has been....
.... my voracious reading habit, as a result of which I have acquired a great deal of information, over a wide range of interests and disciplines.
The best advice I ever received was....
.... "You have only one chance to make a good first impression".