Digital payments could boost tax revenue by nearly US$500 million each year and drive economic modernization in Tanzania. Read more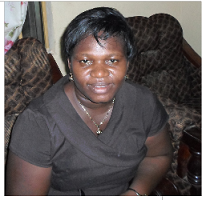 …Kwame Nkrumah University of Science and Technology in Ghana.
…with Mizpah school where taught as a Maths teacher for the upper primary department
I was born in a small town in Ghana called Asuofia, went through primary and junior high school and then pursued a General science programme at St. Louis Secondary School. My first job was as a Maths teacher at Mizpah school and after teaching for almost two years, I continued with my tertiary education and graduated with a degree in Biochemistry. This was followed by my Master's degree in Food Science at the University of Ghana, a field I wanted to study to help my business.
The challenges of growing up and survival turned me into a woman who does not wait for opportunities to spring forth but rather creates her own opportunities. As a child, I really admired women who worked so hard to keep their families going and I never understood why people couldn't find something to do with their two hands to feed themselves. But, growing up, I have realised that it takes more that.
I am now involved with cosmetic production and food processing and produce and formulate products for young and new entrepreneurs. The inspiration for Paridox alata samima ge (black soap gel), our main product line, came from my philosophy of living simply and making the best out of whatever is around you at any point in time.
…Work as the Managing Director with Tiwajo Industry, my cosmetics company, with responsibility for product development and quality checks.
What I learned along the way is…
… to dream and to believe in my dreams and aspirations.
My greatest influence has been…
…the fact that I never wanted to be employed, but to employ.
The best advice I ever received…
…is that we have all been given a big stage on which to perform, but it is how you perform that will make the difference. My advice to my fellow entrepreneurs is look to the future with hope and to keep on dreaming and believing in those dreams.
…hard work, humility and honesty.
If you would like to nominate an inspiring person for a 5 Minute Interview, contact us at: editor@reconnectafrica.com