"What I learned along the way is …
…we human beings have the potential to do a-mazing things if we take up the endless opportunities that life offers us to learn, develop and grow.'
Grace Owen
Leadership Development Consultant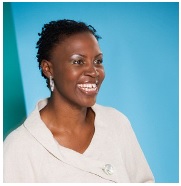 I was educated at....
….Haverstock Secondary School in north-west London and South Thames Sixth Form College in south-west London. I completed a BSc at Roehampton Institute, University of Surrey, UK. My second degree, an MSc, was sponsored via a workplace scheme and accredited by an American university in Boulder, Colorado.
My first job was....
…. working in Retail for high street store Habitat, then luxury brand Heals and back to the high street as an employee of Marks and Spencer. I was a graduate trainee for Marks and Spencer, first specialising in Human Resources, then Learning and Development.
What I do now is....
…My work portfolio is made up of 3 areas, Leadership, Philanthropy and Writing. I am founder and director of Grace Owen Solutions Ltd, a 12-year-old leadership development consultancy that works across the private, charity, public and enterprise sectors. I am an advisor to organisations and institutions, facilitator to groups and teams and a mentor coach to senior women leaders. Recent clients are Duke Corporate Education, London Business School and UNICEF UK. I am a non-executive director for Camfed, which campaigns for female education in Ghana, Malawi, Tanzania, Zambia, Zambia, Zimbabwe, South Africa, the UK and USA. In May 2015, I launched community project, African Diaspora Kids, because our children have so much to offer Africa and the Diaspora. I am author of the self-development book The Career Itch – 4 Steps for Taking Control of What You Do Next. Articles that I have written about careers, work, leadership and self-publishing have been featured in the mainstream and specialist media off-line and online.
Grace Owen is the director of a leadership development business that since 2003 has grown a client base spanning the public, private, charity and enterprise sectors.
Grace has developed thousands of leaders from more than 30 countries and 4 continents. Before starting a business she was head of Learning and Development for Costa Coffee and a graduate management trainee for Marks and Spencer.
A philanthropist, Grace is founder of African Diaspora Kids, a new community project whose mission is to develop the next generation of African Diaspora Leaders www.africandiasporakids.com
She is a non-executive director of Camfed, which campaigns for female education, employment, enterprise and empowerment in East, West and South Africa www.camfed.org.
A writer, she self-published The Career Itch – 4 Steps for Taking Control of What You Do Next, in 2009. Her book on leadership will be published in 2016.
What I learned along the way is…
… we human beings have the potential to do a-mazing things if we take up the endless opportunities that life offers us to learn, develop and grow.
The greatest influence on my life has been……
…countless women, men and children who have inspired me over the years – some very well-known and others obscure. Right now I am very excited about the power and influence of a pan-African women's network called Cama. These women are the beneficiaries of Camfed. Presently there are around 33,000 members and in five years this will rise to more than 100,000!
The best advice I ever received is…
…. it is never too late to make changes in your life and work if you are committed to doing the hard work of turning your ambitions into a reality.
My top tips for succeeding in my career area are…
…a) Do what you love and are interested in; review and refresh these continually
b) Network, network, network! Meet new people on purpose and by divine appointment!
c) Remember that life presents endless opportunities for you to learn, develop and grow.
google_ad_client = "pub-8266222399114638"; /* 300x250, created 31/03/09 */ google_ad_slot = "5590648665"; google_ad_width = 300; google_ad_height = 250;