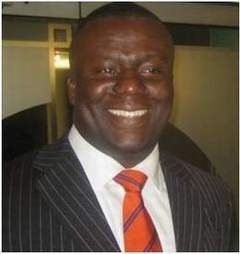 Farouk Haruna
Financial Consultant
I was educated at....
....University of London and the Financial Training Company
My first job was....
.... wan Inventory accountant for European Marine Contractors.
What I do now is....
.... work as a Financial Consultant, helping individuals make the most of their money by giving market advice on investments, retirement planning, mortgages and insurance. The recent introduction of RDR and Pension Compulsion has seen my business move more towards the corporate client.
Farouk Haruna has built a long career in finance. He started his career in Accounting, crunching inventory and currency accounts for three years for a marine company in Surrey.
He then moved into personal financial management some 11 years ago where his role has varied from tied agent to adviser and finally as a Consultant. He currently works with Ablestoke Consulting in the City of London.
Farouk is also the Membership and Business Development Coordinator for Star 100, a Ghanaian professional network with over 500 members in London.
IWith what little free time he has, Farouk dedicates his knowledge and experience to charitable organisations. Over the years he has worked with and sat on the boards of both local and international charities with varying objectives ranging from child welfare, women's rights, adult literacy to neighborhood network development, to name a few.
What I learned along the way is...
it is not "timing the market" but "time in the market" that makes all the difference.
My greatest influence has been....
.... my mother who constantly drove home the importance of morals and values.
The best advice I ever received was....
from my parents. The only person who will pay you what you're really worth is yourself, so be your own boss.