What's on in July and August? Take a look at our listing of free and paid-for events and activities and take advantage of discounts available to our subscribers.

The following is a listing of some events taking place in the UK and overseas in July and August 2017. For further information, please contact the organisers directly.
PLEASE NOTE
: ReConnect Africa accepts no responsibility for any of the events listed and/or any dealings with the event organisers.
July 2017
1-3 July – Africa Trade & Investment Global Summit (ATIGS), Washington DC, USA

ATIGS 2018 will welcome over 2,000 high-profile delegates from 70+ countries which will include the top level global participation of Ministers, CEOs and industry experts, among others.
The Africa Trade & Investment Global Summit: Conference + Trade Show, is a high-level, prestigious, biennial business platform designed specifically to promote and facilitate international trade and foreign direct investment in Africa. The event will bring together over 2,000 participants from more than 70 countries which consist of +120 high-level government officials, +350 global investors with interest in Africa, +800 companies looking to expand or establish their business operation in Africa, +300 companies from Africa sourcing for international partners, +130 trade promotional organizations (TPOs) and investment promotion agencies (IPAs) from various African countries all under one roof.
ATIGS will showcase the wide range of trade and investment opportunities that are available in their respective countries in an international pavilion and country pavilion formats, offering global investors, companies, and government bodies, with first hand face-to-face experiences to explore, and identify those opportunities in an ultimate business platform ideal for conducting G2B, G2G and B2B meetings.
ATIGS 2018 will consist of 13 co-located events under the umbrella of World Business Week on Africa powered by Africa Trade & Investment Global Summit. The 13 side-events are, Sustainable Agriculture Forum: Africa, Construction and Infrastructure Forum: Africa, Electrify Africa Forum, US-Africa Manufacturing Forum, EU-Africa International Business Congress, Africa-China Economic Forum, UAE-Africa Business Forum, The Forum for Africa Economic Development, Africa Smart Cities Forum, Sustainable Educational Development Forum: Africa, Consumer Technology Forum: Africa, and Africa Power & Energy Expo which will be held in conjunction with the 27th World Gas Conference (WGC 2018) – largest, most high-profile and significant global gas conference and exhibition.
For further details and to book: http://atigs2018.com/atigs-2018/
To November - Stan Firm inna Inglan: Black Diaspora in London, 1960-70s, Tate Britain, London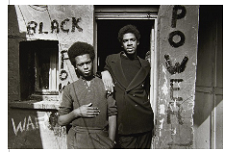 Explore the experience of those who travelled from the Caribbean and West Africa to live in London
This display brings together works from the 1960s and 1970s by eight photographers who documented Black communities in London: Raphael Albert, Bandele 'Tex' Ajetunmobi, James Barnor, Colin Jones, Neil Kenlock, Dennis Morris, Syd Shelton and Al Vandenberg.
The photographs reveal the many and varied experiences of individuals who travelled from the Caribbean region and West Africa to live in London, from everyday family life to political engagement. They show people as they respond to, react against and move beyond the racial tension and exclusion that were part of life for Black communities in the British capital. The title of the display, 'Stan Firm inna Inglan', is taken from the poem It Dread inna Inglan by Linton Kwesi Johnson, who in the 1970s gave a voice and poetic form to the Afro-Caribbean diaspora and its resistance in the face of racism. The poem expresses in Jamaican patois (creole) the resolve of African, Asian and Caribbean immigrants to 'stand firm in England', asserting the determination of Black British communities to remain in Britain and declare it as their rightful home.
The work of most of the photographers has gained prominence in recent years through the research and curatorial work of Autograph ABP, which was established in London in 1988 to advocate the inclusion of historically marginalised photographic practices.
http://www.tate.org.uk/visit/tate-britain/display/walk-through-and-spotlight/stan-firm-inna-inglan-black-diaspora-london
10-12 July – The West Africa Fertilizer Agribusiness Conference, Accra Ghana

The West Africa Fertilizer Agribusiness conference comes at a time when the Ghanaian fertilizer and agribusiness sector is undergoing an incredible boost from the country's new leadership, making it the perfect moment to explore the region's potential using the conference's main themes of partnership, investment and innovation.
The three-day conference and networking event will attract over 250 attendees and feature specialist workshops, keynote presentations, interactive panel discussions, break-out sessions and a site visit to the Nestle Tema factory. Sessions will explore critical issues such as how the cost of fertilizer for West African farmers and how supply chains of agricultural inputs can be improved, how local government and international suppliers of fertilizer can work in partnership to build strong agribusiness.
The agenda features over 25 speakers including opening keynote presentations from Hon. Hackman Owusu-Agyemang the Chairman of Ghana Cocoa Board (COCOBOD) and Tchambacou Ayassor the Commissioner of Agriculture, Environment and Water Resources at The Economic Community of West African States (ECOWAS). Fertilizer industry leaders such as Onajite Okoloko, Group CEO and MD of Notore Chemical Industries and Danquah Addo-Yobbo, MD of Yara Ghana will also give their views. The conference marks the second in the continuing collaboration between CRU Events and AFAP. This unique partnership offers unrivalled networking opportunities with senior decision makers from the biggest fertilizer buyers and manufacturers in some of the world's fastest growing fertilizer markets.
Full details of the conference can be found at www.WestAfricaFertilizer.com.
13-15 July – HVAC West Africa 2017, Lagos, Nigeria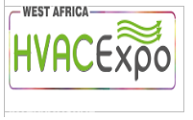 West Africa has grown steadily and gaining recognition in the Air Conditioning, Installation System, Refrigeration, Water Treatment, and Insulation industry.
WEST AFRICA HVAC has been serving and offering industry professionals a platform to explore cutting-edge tools and products and is a multi-sector, multi-national trade exhibition and among one of the country's major events. HVAC 2017 will host thousands of trade buyers and many participants as the leading trade event for the Air Conditioning, Installation System, Refrigeration, Water Treatment, and Insulation, WEST AFRICA HVAC has always been an ideal platform for the exhibitors to present their latest products, innovations and solutions to the professionals, including the contractors, wholesalers, dealers, architects, etc.
WEST AFRICA HVAC offers an unrivalled opportunity for companies in the industry to show their products, services and technologies. Nigeria is the best place to meet and network with your target clients and suppliers in Africa.
WEST AFRICA HVAC is a professional platform with more than 70 brands to interact and conclude business with their trade & consumer visitors. The expectative number of visitors that will have a unique opportunity to meet and interact with companies is estimated as 8.000 visitors. An opportunity to collect the information and to make purchase decisions will be provided by B2B meetings of the estimated amount of 350.
For details and to register: http://westafricahvacexpo.com/
14 July - Photographs Beyond Ruins: Women and Photography in Africa Conference, London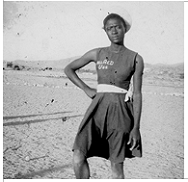 This symposium marks the opening of 'Usakos – Photographs Beyond Ruins: The Old Location albums, 1920s-1960s', an exhibition at the Brunei Gallery, SOAS, University of London. The exhibition centres on three private collections of historic photographs preserved and curated by four women residents of the former 'Old Location' in Usakos, an urban railway hub in central Namibia. With a view to reflect the resonances of these personal archives, Paul Grendon's contemporary photographs enter a visual dialogue with the women's collections, thereby providing a particular opening into the present and future.
These photographs, and the collections of which they are part, shed new light on southern African histories. Viewed from an urban history perspective, they differ strongly from hitherto dominant narratives of location life, focusing as they do on sociality and social relations, and the dignity and self-respect with which subjects presented themselves to the camera. In Usakos today, these images have become a particular historical form through which women negotiate their past, its bearing on their present and what it holds for imagining their future. Unlike the collections of African photographers' studios, it is the people in the photographs to whom names can be attributed, and the photographers – some of whom were itinerant – who remain largely anonymous.
This conference takes the lead offered by this new research to focus on African women and photography. On the one hand, papers are invited that cover aspects of photographic practices defined in the broadest sense: African women as clients, as photographers, as photographic subjects and as collectors and curators of photographs and private photographic archives; women engaged in aesthetic practices that bridge conventional distinctions such as that between the visual and the oral; and women's role in memory work – whether through purely photographic collections, or other private collections that include photographs, letters, identity documents, moving image, objects and other manifestations of material culture. The conference will reflect on how far female photographic practices constituted a domain in which women represented, commented on, responded to and made sense of their experiences of the transformations brought about by colonialism and apartheid.
Booking details: http://www.sas.ac.uk/events/event/7739
15-16 July - 8th Annual Yoruba Arts Festival, Clissold Park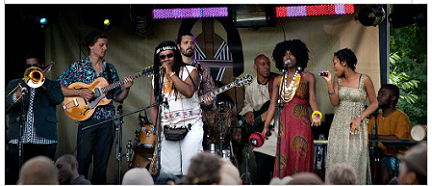 Held over an awesome summer weekend, the festival is a family friendly community event, that provides a social, educational and cultural platform for community cohesion and development through arts and cultural programs thereby making Yoruba Arts and Culture more accessible to a wider audience locally and worldwide.
The annual festival is organised by the Yoruba Foundation, whose main objective is to promote Yoruba Arts and Culture through Arts and Cultural programs such as the annual Yoruba Arts Festival and its annual Arts Exhibition.
https://www.facebook.com/events/617211035142579??ti=ia
20 July - PEI #ScienceAfrica UnConference, London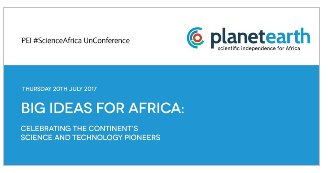 The PEI #ScienceAfrica UnConference is back and this year it's bigger and better than ever!
Join us for an interactive day of high-level presentations, table working groups and participant-led workshops as we celebrate all those individuals, research groups, commercial organisations and academic institutions driving scientific and technological advancement in and for the continent.
Africa and Africans can and are making significant contributions to global science, in fields as diverse as agri-business, public health, space science, energy and water. And we want your help to promote the successes, showcase great ideas, address challenges and galvanise support for the continent's science and technology pioneers.
Connect with over 250 people passionate about African development; learn about the latest and greatest scientific and commercial innovation defining Africa's development; and meet the individuals and organisations at Africa's cutting-edge.
20 July - SOAS Africa Conference - Imagining Africa's Future: Language, Culture, Governance, Development, London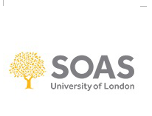 The SOAS Centre of African studies (CAS) is hosting the first SOAS Africa Conference, which will be held on the 20th and 21st of July 2017. Imagining Africa's Future marks SOAS' centenary, and in order to celebrate a century of African studies we look forward to examine future key trends, changes and debates that are likely to shape the African continent over the coming century, drawing from a broad range of disciplines and perspectives in a truly inter-disciplinary conference.
The conference will bring together academics and practitioners from different disciplines to discuss and analyse contemporary issues affecting the continent and its diaspora through groundbreaking contributions in the form of academic papers, films and other audiovisual media, performances, poetry and debates. The format will be interactive and diverse, with panel discussions and workshops, screenings performances and small discussion groups mixing not only different media but also different perspectives. We are therefore seeking contributions from academic activists, performers, artists, public speakers, journalists, researchers, NGO practitioners, civil servants and diplomats, among others. Contributions from academics in African institutions would be highly welcome.
The 2-day conference seeks contributions addressing issues relevant to five broad, cross-cutting and interconnected themes:
Language and linguistic inclusion
Law, governance and economy
Production and transmission of knowledge and skills
Development, aid and trade
African media, cultural representation and production.
Please register and book your ticket here: http://store.soas.ac.uk/produc%20t-catalogue/conferences-events /international-academic-conferences/soas-afric a-conference-imagining-africas -future-language -culture-governance-development
To 29 July - Naomi Wanjiku Gakunga: Tushauriane – Let's Talk About It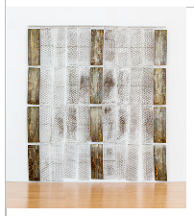 October Gallery presents a new exhibition of works by Naomi Wanjiku Gakunga. This will be her second solo exhibition in London.
Born in Kenya in1960, Naomi Wanjiku Gakunga first studied art at the University of Nairobi, Kenya, before continuing her studies at UCLA, USA. She now lives and works in San Antonio, Texas. Gakunga has been included in several exhibitions in the USA, UK, France, Brazil and Poland. Her UK debut solo exhibition, Ituika – Transformation, was presented at October Gallery in 2013. She was long-listed for the FT/Oppenheimer Funds Emerging Voices Awards, 2016.
Gakunga's works are predominantly wall-hanging sculptures ingeniously created from tin cans, steel wire and oxidised sheet metal. While the techniques Gakunga uses are common to the fibre arts across many traditions, her chosen materials are not; corroded sheet metal, rusted tin cans and stainless-steel wire all follow the concept of Jua Kali, a Swahili adage which translates literally as 'under the hot sun' and refers to the serendipitous outcomes born out of discarded and weathered materials. Here, nothing goes to waste and what is considered unwanted material becomes the medium for a new focus of attention.
Tushauriane – Let's Talk About It pushes Gakunga's practice further, by consciously adopting new diverse materials that intertwine with her core material Mabati, she visually articulates the concept of dialogue. Her choice of ropes, poultry wire, handcrafted paper, and Jua Kali painting, is an attempt to avoid the 'danger of a single story' or one single perspective. The works provoke a re-evaluation of our individual histories and the commonality of our different heritages. The delicate interweaving of materials creates fragile connections, that reflect the reality of borders and borderline relations. Key works such as, Bridges Not Walls and Routes of Migration, question how to reach across real and perceived differences, and address our global responsibility in a world that is continually shrinking. The works instill optimism that mashauri (dialogues) can be created to explore our current social, cultural, economic and political situations. Gakunga uses her visual language to capture our changing world and reiterate, Tushauriane - Let's talk about it
31 July onwards – Tech-Wizz ICT Summer Boot Camp, Lagos, Nigeria
For the first time in Lagos, Nigeria we are organising a Tech-Whizz ICT summer boot camp where your child/children aged between 10 to 17 will engage in rapid but top quality training in ICT in one month, where they will have exciting experience that will help to shape their futures towards becoming top notch ICT professionals. Your child/children will partake in classroom tasks based on real world experience designed by The London School of Information Technology, where they will learn how to:
- Plan a Software Development Project
- Analyse Software requirements for a Software Solution
- Design Software Solution
- Build Software Solution
They will be encouraged to work in teams guided by experienced team champions and product owners. Our Summer ICT Boot-camp has been carefully designed by our highly experienced expert to fill the gap described above by simplifying the complexities of Software Development to the level of comprehension of the secondary school pupil.
With a combination of theoretical and practical hands-on training over 25 working days of the summer holidays in August 2017, our Summer ICT Boot-camp will empower the secondary school pupil with knowledge and skills necessary to become a future "Bill Gates" or "Mark Zuckerberg"!
For details and to register: http://www.tech-whizz.com/
30 July – 1 August – The Africa World Expo (AWE), Johannesburg, South Africa
An exciting new trade show débuts in Johannesburg this year, intended to boost access to markets, increase new business opportunities and expand trade networks across Africa. The AFRICA WORLD EXPO (AWE) takes place at Gallagher Convention Centre in Midrand, South Africa from 30 July to 1 August 2017.
Africa World Expo will give entrepreneurs, traders, importers, exporters, manufacturers, retailers and business owners ready access to a broad range of markets, from local to continental, as well as global. Three co-located initiatives will add even more value for show exhibitors and visitors. The South African Small Business Initiative, the Retail Procurement Arena and the Women in Business and Trade showcase will focus on boosting market access.
The show is a pioneering project by a group of business women from various sectors uniting to create a 21st century benchmark event in the exhibition industry in South Africa and is supported by leading women's organisations such as the African Women in Supply Chain Association (AWISCA), the Xanopia Women's Business Group and the Commonwealth Business Women's Network.
Key sectors on show include tools, DIY and building supplies; a broad range of retail-ready products, manufacturing and beneficiation - as well as components/equipment used in manufacturing and beneficiation processes; food and beverages & agro-processing; tourism, healthcare, logistics, transport and shipping. Other sectors include home, decorative and leisure goods; furniture and appliances; electrical and electronic goods; textiles, fashion, footwear and accessories. Export & trade development and investment promotion agencies, as well as various government agencies, will also exhibit at AWE.
Visits: http://www.africati.co.za/
August 2017
11-12 August - Africa Fashion Week London 2017, Freemasons' Hall, London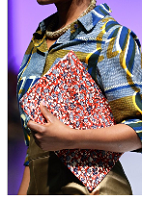 Africa Fashion Week London is proud to that announce Freemasons' Hall in Covent Garden will be the setting for AFWL's seventh season on 11-12 August 2017.
After 3 years at London Olympia, Africa Fashion Week London has sought a new backdrop for their annual show. This prestigious venue has been the home of many fashion shows including the LFW off schedule powerhouse, Fashion Scout; but none will match the vibrancy of the African design aesthetic!
Two full days of catwalk shows will be held in the beautiful Grand Temple space. Exhibition showcases will be held in the elegant Foyer and Vestibules. Look out for another South African contingent of top designers – many representing for the first time in London.
Visit us at www.africafashionweeklondon.com or Ticket info@africafashionweeklondonuk.com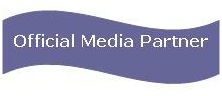 15-16 August - Cape Construction Trade Expo, Cape Town International Convention Centre, Cape Town, South Africa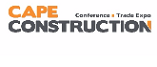 Cape Construction Trade Expo is a one-stop-shop networking and knowledge platform that allows the Western Cape building and construction industry to respond to changes in their environment and enhances their business opportunities.
The Cape Construction Trade Expo creates dialogue among government, policy decision-makers and the building and construction sector. An interactive exhibition with the latest products, tools and technologies encourages a change towards more efficient and sustainable building. A strategic and technical workshop programme offers training and educational content.
For details and to register: www.cape-construction.co.za
Contact: Tamsin Collins: tamsin.collins@hypenica.com ,+27 21 700 4354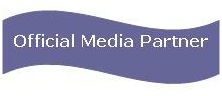 16-17 August - The 6th Customer Experience Management Africa Summit, Cape Town, South Africa

CEM Africa is a meeting place for CX professionals and innovative CX solution providers. The show takes place on the 16th & 17th of August 2017 at the state of the art Century City Conference Centre in Cape Town, where like-minded customer experience experts and the top CX solution providers gather for an informative and educational summit with the common goal of improving customer experience across Africa.
CEM Agenda
The CEM Africa Summit agenda delves into the hot topics and key trends in the CX industry. With the assistance of an advisory panel of exCEM Africa Summit agenda delves into the hot topics and key trends in the CX industry. With the assistance of an advisory panel of experts, we have developed 4 main themes:
The influence of advancing technology
Redesigning the customer journey
Internal changes for positive experiences
Understanding the customer
Advisory Panel
These experts are embedded in the industry, enabling them to provide practical knowledge on a variety of topics.
Ica Van Eeden, Head of Customer Service & Experience, Takealot
Shep Hyken, Customer Service Expert
Ian Golding, Certified Customer Experience Professional
Iain Meaker, Executive Manager Commercial Distribution, Comair
Prof. Adre Schreuder, CEO & Founder, Consulta & SAcsi
CX solution providers
Genesys, KPMG, Achievement Awards Group, IQ Business, Genex Insights, SAS, Inovo, Presence Technology, Smoke Customer Care Solutions, Forrester, Delight@work.
Website: www.cemafricasummit.com
Phone: 021 180 4700
Email: marcia@kineticevents.net
CXA Awards
The inaugural CX Africa Awards stems from the vision and success of the Customer Experience Management Summit. The CXA Awards celebrate and promote the highest level of customer experience across Africa. The CXA Awards gala dinner will be an evening of glamour and prestige while we celebrate CEM's top achievers.
Master of Ceremonies
Schalk Bezuidenhout
Judges
Qaalfa Dibeehi, VP & Principal, Forrester
Julia Ahlfeldt, Customer Experience Specialist, Brand Union
Chantel Botha, CEO, Brandlove
Prof. Adre Schreuder, CEO & Founder, SAcsi & Consulta
1. CXA Omni-channel Champion
2. CXA Customer Insights Award
3. CXA Customer-centric Culture Award
4. CXA Digital Innovator
5. CXA Game-changer Award
6. The CX practitioner
KPMG will be verifying the awards processes to ensure impartial and unbiased results.
The second round of nominations closes on 30 June. Nominators will be entered into a draw to win a sizeable Takealot voucher. Click here to nominate a company/individual for an award.
The CXA Awards Ceremony takes place 15 August 2017 at the Century City Conference Centre.
For information about table bookings, nominations and sponsorship opportunities, contactmarcia@kineticevents.net
Website: www.cxa-awards.com
Phone: 021 180 4700
Email: marcia@kineticevents.net
17-19 August - International Private Universities Conference, Exhibition & Awards (IPU 2017), Accra, Ghana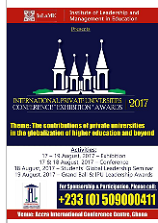 The International Private Universities Conference, Exhibition & Awards (IPU 2017) is organised by the Institute of Leadership and Management in Education (InLaME). The IPU 2017 is under the theme "The Contributions of Private Universities in the Globalization of Higher Education and Beyond" The IPU 2017 will be a one stop shop for all concerned with the collective qualitative growth of private university education. It is true that private university education particularly in Ghana is flourishing with over 60 accredited by the National Accreditation of Board (NAB).
During the run-up to the Tercentenary Celebrations of Harvard University, James Bryant Conant asked 'would private universities in the future be able to win that popular admiration and respect which alone can guarantee their survival?' Today the success of private universities in the contribution of human resource capital cannot be over emphasised. It is true that while some private universities rank top on universities' league tables, others lack the needed resources to make a strong presence in the education sector.
It is based on these two factors that the IPU Conference & Exhibition is being organised to share knowledge and experience in effective ways of making private universities particularly in developing countries the first choice not an option to public universities. The clarion call for IPU 2017 is to provide a platform to harness quality for higher education commons through knowledge sharing, planning, inspiration, admissions, celebration of success and entertainment.
Please for more information on conference registration, speaker invitation, exhibition registration and sponsorship, email: ipu.events@gmail.com or call 0509 000 411.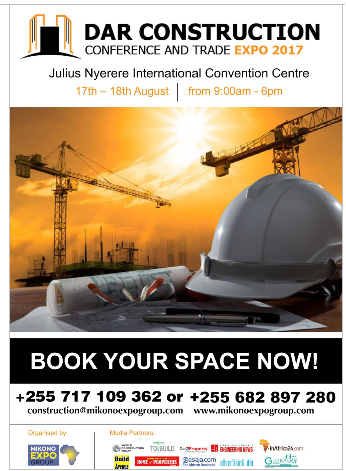 21-22 August - Presidential Infrastructure Champion Initiative (PICI), Kampala, Uganda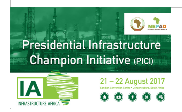 The 2017 Infrastructure Africa Business Forum will focus on the PICI and host key discussions around the project opportunities aligned to the Projects. Despite the ongoing global economic turmoil, Africa still presents a high-growth market and needs to take advantage of this. Although rich in resources, the continent lacks the necessary infrastructure to reap the benefits of potential investment opportunities and to sustain its current economic growth and competitiveness.
Bridging the gap in infrastructure is thus vital to economic advancement and sustainable development. However, this can only be achieved through regional and continental co-operation and solution-finding.
The Presidential Infrastructure Champion Initiative (PICI) was born out of a proposal by President Jacob Zuma to accelerate regional infrastructure development enabled through the political championing of projects. This proposal was made during the 23rd Heads of State and Government Orientation Committee meeting in Kampala, Uganda, in July 2010. The role of the champions is to bring visibility, unblock bottlenecks, co-ordinate resource mobilisation and ensure project implementation. It presents the opportunity for African Heads of State and Government to be actively involved in the development and implementation of projects.
Initially eight projects were identified to be championed by the seven selected Heads of State and Government. Most of these projects were endorsed by the 16th AU Assembly in January 2011 in Addis Ababa, Ethiopia, while others, such as the LAPSSET Corridor Project, later joined the PICI family, thus making the total number of projects nine, championed by eight Heads of State and Government. South Africa, under the leadership of President Jacob Zuma, chairs the PICI. The projects cover four infrastructure sectors, namely transport, energy, ICT and transboundary water.
The objective of the PICI is to ensure that the projects are implemented within five years (2010–2015). In this context implementation is defined as the advancement of the project from pre-feasibility to feasibility phase, or from feasibility to construction, or simply that demonstrable evidence of progress is available.

24 August - The Africa Property Investment Summit, Johannesburg, South Africa

The Africa Property Investment Summit & Expo (API) is Africa's largest and most premier real estate event. It connects the most influential local and international Africa property stakeholders, driving investment and development into a wide range of real estate and infrastructure projects and developments across the continent.
Over the last 8 years The API Summit has proven to be Africa's flagship real estate event gathering the region's most senior investors, developers, operators and professionals and providing the perfect platform to do deals across the region.
The two days is an accumulation of bespoke networking opportunities, learnings and transactions through the extensive range of discussions, networking receptions and a dedicated exhibition area to gain the most traction for your company and brand. This is a stand-alone opportunity to discuss current trends, share industry experiences and enjoy insightful debates with Africa's top real estate minds.
For details and to register: http://www.apisummit.co.za/
30 August – African Professional Indemnity Insurance Conference, Harare, Zimbabwe

The African market for professional indemnity insurance has been expanding quite rapidly and strongly with over 40% of the total market value being generated by smaller professional enterprises and new business representing a very significant proportion of the total market.
Though, the Professional Indemnity Insurance industry has been continuously going through soft and hard market cycles, capacity continues to be plentiful and the state of competition is very risk-specific. Cutting-edge sectors like cyber indemnity and medical indemnity are offering the most potential for growth as companies realize the extent of their exposure to data breaches and attacks, and brokers gain a better understanding of the product. As the perks of having a PI insurance cover have always attracted professionals–avoiding any liability claim against an unintentional professional negligent action, the PI Insurance industry has been expanding progressively and, is spreading its tentacles across the whole Africa region– covering the most urbanized as well as remote areas.
The African Professional Indemnity Insurance conference will discuss the indemnity insurance industry's growth forecast, analyse the regulatory trends, drivers, industry pitfalls, challenges and growth opportunities for participants and leading market companies. Further, the conference aims to convene Insurance Companies Heads, Medical experts, Contractors, Data Handling Experts, Insurance Law Experts and Practitioners, Cyber Experts, Event Management Companies Heads and Human Resources Heads in Insurance Sector, to brainstorm innovative and effective measures to strengthen the African PI Insurance market.
http://tradeessential.com/events/professional-indemnity-insurance-harare/
For further information, please contact the organisers directly.
PLEASE NOTE: ReConnect Africa accepts no responsibility for any of the events described above and/or any dealings with the event organisers.
To notify us of your event and discuss advertising and marketing options, please contact us at: editor@reconnectafrica.com