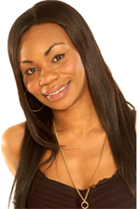 While shopping may seem the ultimate pleasure for some of us, when shopping is your profession, it's not always as easy as it seems. Staying in the know about the best of London's high street stores, designer boutiques and vintage shops and styling high-profile clients is no small feat.
ReConnect Africa spoke to Zoe Huskisson, 'the ultimate personal shopper' about the challenges and joys of life as a professional stylist.
RCA: Zoe, can you explain what exactly a stylist does?
ZH: A fashion stylist can work in various capacities; for magazines (which involves styling the fashion pages), organising fashion shoots, and personal styling, which is working with clients - often celebrities - to create a style which flatters.
RCA: What inspired you to follow this career path?
ZH: I have always had a keen interest in fashion and I genuinely believe that fashion is not totally superficial, because if you look good then you feel good.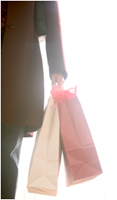 I graduated from the London College of Fashion obtaining a BA Hons. Fashion Promotion degree. The course covered journalism, public relations and broadcast. I specialised in journalism and had to create an 84-page lifestyle magazine for my final year project. I really enjoyed the creativity of styling the fashion pages - everything from casting the models, researching the location and deciding on the concept.
After graduating, I worked in various areas of the media including television production and editorial journalism. I was a regular contributor to Pride magazine and also styled TV presenter Josie D'Arby for the cover.
I have also had my work featured in the international publication 'Hello!' magazine, where I styled the first Muslim Miss England. In the magazine, I had her wearing designs by Elizabeth Emmanuel who designed Princess Diana's iconic wedding dress.
RCA: What are some of the challenges in running a business of this kind?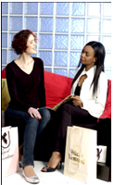 ZH: Being your own boss means you have no-one to blame but yourself if things go wrong. Networking is really important and this might not be as creative as working with a client, but it's vital for business.
Initially it can be tricky gaining customers as many people associate personal stylists with celebrities. However, with the popularity of fashion-related programmes such as those presented by Trinny and Susannah and Gok Wan, it is making the industry more accessible.
Whether you're a celebrity or not, everyone deserves to look their best. I love a challenge so I do not see this as a negative thing and the positive feedback from my clients far outweighs any big hurdles!
Whether you're a celebrity or not, everyone deserves to look their best.
RCA: What have you found to be the benefits of what you do?
ZH: I love working with people and this is the perfect job for me.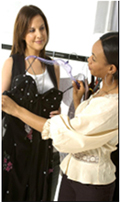 To help a client with their style, I also have to learn about their lifestyle, career etc.
It is truly rewarding to see how a new outfit can really boost someone's confidence. I recently styled a lady who was attending the Mama Mia! film premiere- she lived in casual clothes and was totally transformed into a glamorous goddess for the red carpet event. I feel very fortunate to be doing a job that I enjoy.
RCA: What lessons can you share with people who would like to do what you are doing?
ZH: It's not enough to have an interest in fashion, it's equally important to be a sociable person. Many clients requiring style assistance trust you to be honest, yet helpful.
Keep yourself updated on fashion trends and how a designer look translates to the High Street. This is paramount as clients' budgets can vary from £50 to £5000!
Learn more about Style Elite:  www.style-elite.com   info@style-elite.com  Tel: 07956 462 118