Kwei Quartey, author of the Inspector Darko Dawson crime novels set in Ghana, talks about the joys and challenges of a writing career.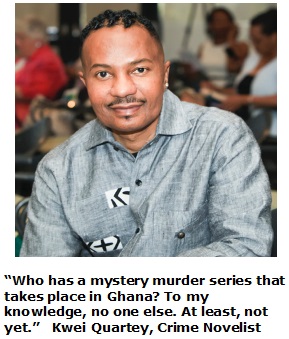 Kwei Quartey, author of the Inspector Darko Dawson crime novels set in Ghana, on the joys and challenges of a writing career
Kwei Quartey is a crime fiction writer and physician who has practiced medicine for over 20 years. He lives in Pasadena, California and his writing success has seen him make the Los Angeles Times Bestseller List. Quartey's books are set in Ghana and feature the memorable Inspector Darko Dawson.
ReConnect Africa spoke with Kwei Quartey about his career and his love of writing.
ReConnect Africa: Congratulations on your well-deserved success as a crime fiction writer. You have lived in the United States for some time but can you tell us a little about your early years?
Kwei Quartey: My three brothers and I were born in Ghana to a black American mother and Ghanaian father, both of whom were lecturers at the University of Ghana. I grew up there while enjoying frequent summer vacations in the States with my siblings. In Ghana, our home had books in abundance, and what I voraciously read stimulated me to write. Even as a kid, I loved mysteries, and at the age of eight or nine, I was writing mystery novellas in longhand for my family to read.
ReConnect Africa: You began your career in medicine. What motivated you to move into this field?
Kwei Quartey: I was interested in medicine by age 11, often reading about ailments and their cures, and sometimes engaging in unofficially "diagnosing" people's illnesses. I think I was a bit cocky about it and probably wrong most of the time. For a while, I wanted to become a veterinarian. I once nursed our dog Joby back to health after he sustained a nasty wound from a rabbit trap in the bush somewhere in the wilds of the university campus. He clattered home with the rusty iron trap still firmly attached to his left back paw. I don't even remember how I got it off. The vet we took Joby to advised amputation of the paw, but I asked him if he would hold off while I tried to heal the wound myself. I determinedly cleansed and dressed the gash in Joby's paw every day for months until it closed and restored him to full function.
Fittingly, I am a wound care physician in the present day. It was my maternal grandmother who gently persuaded me way back then to become a physician for humans instead of for animals. I don't know about now, but vets had not been highly regarded in her native country of Trinidad. I must say, however, I would have loved being a veterinarian.
There would be nothing unique about yet another detective in Los Angeles. But, in Ghana? Now you're talking. Who has a mystery murder series that takes place in Ghana?
ReConnect Africa: When did you realize that you could write, and what does writing mean to you?
Kwei Quartey: I certainly didn't wake up one day and think, "Wow, I can write." Answering the same question about his craft, actor David Oyelowo said you don't really know you can act until other people tell you so. For myself however, I'm inclined to think that, reassurances to the contrary, I may never believe that my writing is as good as it could be. Another writer said of his own works that if a day came when he thought he didn't need to improve any further, he might as well stop writing. I agree with that. I keep on writing so I can get better at it.
What does writing mean to me? At this point, almost everything. I can't imagine life without it. I live with my characters day and night. I probably think about some aspect of writing more than twenty times a day. I hope to write until advanced age, dementia, death, or all of the above incapacitate me.
ReConnect Africa: Despite living in the United States, you have chosen to set your books in Ghana. What drove that decision?
Kwei Quartey: Around the year 2000, I saw a documentary on French TV about a rural detective in Côte d'Ivoire who used threats of witchcraft to get his suspects to talk as he tried to solve a murder in a village. It was brilliant, and I was riveted. I immediately wanted to write a mystery just like it. Maybe that was the moment Africa began to call me back. At the time, I hadn't returned to Ghana in some thirteen years, and because I was unclear about how much the homeland had developed, I chose to set my murder mystery in a fictitious, "Ghana-like" country.
The title was Wife of the Gods. When the manuscript was complete and I sent it out to various agents, one of them asked me why I hadn't set the story in the "real" Ghana, the country in which I was born and bred. I realized how right she was. Thus began a series of return visits to Ghana for research related to my novels. The title of my first novel, very different from the early tries, is still Wife of the Gods.
But something else implicit in your question is, "Why not write mysteries set somewhere in the United States, perhaps in the Los Angeles area where you reside?" The answer is that there would be nothing unique about yet another detective in Los Angeles. But, in Ghana? Now you're talking. Who has a mystery murder series that takes place in Ghana? To my knowledge, no one else. At least, not yet.
ReConnect Africa: What was the inspiration behind your lead character, Inspector Darko Dawson?
Kwei Quartey: The early Darko prototype was modeled on the detective described above, but because his methods were so brutal, I toned Darko down considerably compared to the Ivorian sleuth. Nevertheless, Darko is often hot-tempered and violent in the first novel.
ReConnect Africa: How do you balance life as a busy physician and a bestselling author?
Kwei Quartey: Basic time management and discipline. I write early in the morning before work, on days off and holidays, and on the weekend. But actually it's not as hectic as you might think. I work for a medical group and my clinic hours are set. I don't take night calls or do any hospital rounds. I set this arrangement up early in my medical career so that I would be able to write. I'm fortunate in that regard.
ReConnect Africa: What were the key challenges for you in getting published when you write stories that are so different in content from traditional American publishing?
Kwei Quartey: I remember a snooty British agent telling me years ago, "There are two places in the world no-one wants to read about: Africa and Afghanistan." Clearly, that was before Alexander McCall-Smith and Khaled Hosseini came along.
The lesson is that publishers' interest in Africa has slowly grown over the last two decades, I would say, and though Americans' literary interests may remain largely parochial, a loyal set of readers love a good mystery in faraway places. I'm very fortunate now to be with Soho Press, a small publisher with an impeccable reputation and a devotion to crime fiction from all over the globe. Soho has a must-see world map you should Google showing where their authors set their crime fiction, and I'm proud that there's a circle on West Africa for Kwei Quartey's Darko Dawson series.
ReConnect Africa: When does your next book come out and what is your hope for the way your dual careers develop?
Kwei Quartey: The next novel, Gold of Our Fathers, the fourth in the series, will be released February 2016, and Death by His Grace, the fifth, will come out a year later in the same month, inshallah.
My intention is that writing will soon take precedence over the practice of medicine, enough that I can produce two novels a year. I'm chasing James Patterson. That was a joke. At any rate, I would like to be retired or semi-retired from medicine in the next two to three years.
ReConnect Africa: What advice can you offer to aspiring novelists?
Kwei Quartey: Write for the love of it, and don't give up. You don't ever want to look back over your life and regret that you didn't continue writing.