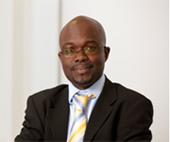 Kofi Atuah
Technology Manager
I was educated ……
… at secondary schools St Peter's in Ghana and St Bede's College in Manchester. I attended Bradford University in the UK, gaining a BEng Chemical Engineering followed by Cranfield School of Management in the UK for my MBA.
Kofi Atuah is a delivery-oriented programme leader with over 10 years experience in blue chip organisations.
Kofi started his career as a Production Engineer for BOC where he was responsible for managing and improving control room operations. Moving on, he project managed a £1.2m two-year development programme to integrate core technologies, involving organisations in UK, US and Canada, resulting in the achievement of UK's first fuel cell prototype. During his MBA programme at Cranfield School of Management, Kofi contributed to the business strategy of a Government-approved vendor by developing an enhanced innovation management strategy that would maintain market leadership and boost profitability.
Since joining the Carbon Trust in 2005, Kofi manages a team of consultants to deliver a complex portfolio of projects to assess the carbon-saving benefits of a strategic technology and to identify market and supply chain risks.
As part of his achievements in his current role, he also communicates key messages and insights from complex concepts in a series of workshops to a diverse range of stakeholders, providing clarity in identifying markets for new products.
My first job was……
… A process engineer in the BOC Gases graduate training programme. I was thrown in at the deep end, ran a chemical plant with cool technology and was allowed to learn how the business worked. Good fun, without too much responsibility.
What I do now is……
… Technology Manager at Carbon Trust. I work with businesses to help them develop and commercialise low-carbon energy technologies. The Carbon Trust is an independent company set up by the UK Government. Its mission is to accelerate the move to a low carbon economy by working with organisations to reduce carbon emissions and develop commercial low carbon technologies.
What I learned along the way is……
… Embark on a career, whatever it is, that you can feel passionate about, and that will keep your brain working. It's too much hard work motivating yourself if you don't like what you do. Be clear about your values; people will respect you for it.
My greatest influence has been……
… My parents – they took some great risks and made some hard decisions in their lives to get me where I am today.
The best advice I ever received is……
… A mentor once told me two things; First, be true to yourself. Second, don't let other people tell you what you are worth. It's too important to leave to others. It took me some time, but I get it now!