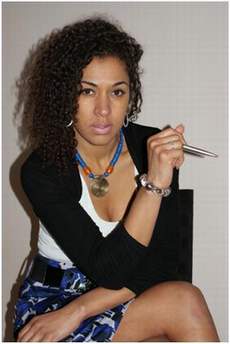 Savahna Nightingale
TV Broadcaster & Columnist
I was educated at....
....Bramley Primary School in leafy Hampshire, England and Harriet Costello grammar school followed by Queen Mary's College, the University of Plymouth for a post-grad in Journalism and then the Cambridge School of Finance.
My first job was....
....working on the hot-counter in the canteen of a large multinational insurance company in Basingstoke at age 15. My job was to probe the food with a thermometer every 30 minutes to ensure it was hot enough. I framed my first ever pay-cheque of £13.63 on my bedroom wall after a month of prodding baked potatoes! My first professional job post university was as the in-house reporter for Lloyd's Economist – a monthly business journal.
What I do now is....
.... I'm a TV broadcaster, producer and columnist and also Director of Sashkeys Media (www.sashkeysmedia.com).
Savahna Nightingale MCIPR is a TV Broadcaster, Columnist and Director of Sashkeys Media and has produced documentaries and programming for the BBC, C4 and Channel Five in the UK as well as various ethnic media channels.
With her background in journalism, Savahna wrote for a range of business publications including the Lloyd's Shipping Economist on international trade and finance issues, as well as for other newspapers and magazines before branching into PR and film. She currently has two columns in leading publications PRIDE Magazine and CheckOut Magazine.
On the strength of her role as Business Development Consultant to CheckOut, Savahna holds a place as one of the members of the publication recently appointed by the Executive Governor of Nasarawa State, Nigeria, Dr Aliyu Akwe Doma, as media consultants to the state government on international affairs.
Her passion and interest for Africa and the Caribbean has led her to produce films that positively reflect their culture and heritage.
She has made related films to date in Ghana, Zimbabwe and Sierra Leone and produced a documentary of President Barack Obama's visit to Ghana, conducting interviews with former Presidents John A Kufuor and Jerry Rawlings.
She travelled to Washington DC with a delegation from Ghana's present government, including President Atta Mills and Minister for Trade and Industry Hannah Tetteh, to cover an investment into Ghana forum. This was coupled with filming and partaking in the Clinton Global Initiative in New York and working to promote Plan USA, an NGO in existence since 1937 to help children in the developing world.
Savahna has been projects director for a film production company gaining exposure and coverage at the Cannes Film Festival and awards in the Pan-African Film Festival and New York Film Festival. She hosts a range of TV programmes including The Platform, an entertainment and social issues programme, and The Ambassadors, a hard hitting series, interviewing ambassadors and heads of states. This year sees the launch of The Savahna Show, a new weekly series, across Africa and Europe.
What I learned along the way is...
....aim for the top, and if you punch in just below, you wouldn't have done too badly. Meanwhile, if you want it done properly, do it yourself; nobody will do your job as well as you will.
My greatest influence has been....
.... my mother. As clichéd as it may sound, my strength, inspiration, optimism, self-awareness, sense of spirituality and no-nonsense attitude comes from her, which has undoubtedly stood me in good stead along the way - chip off the old block as they say. My mother came to the UK alone from her birthplace, Ghana, at the age of 18 to train as a midwife. Over the last 40 years she successfully built a business, raised her family and has gone on to set up GAYAK, a charity to support children's education back in Accra, Ghana. Something I hope to also do one day.
The best advice I ever received was....
....exercise the mind and not just the body. We can all go to the gym, but a healthy mind, body and soul will carry you a lot further.