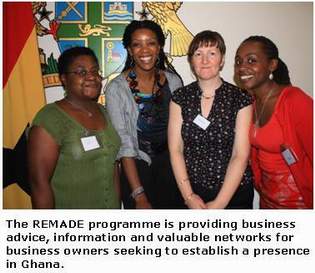 How the REMADE project is helping new and expanding businesses to tackle the challenges and succeed in Ghana
Africa is becoming the land of discovery again but this time it is being discovered by people from the African Diaspora. Many Africans around the world are increasingly looking to the countries of their heritage as fertile ground for them to settle down roots, start new ventures and contribute meaningfully to economic growth and sustainable development.
As an investment destination, many countries on the African continent offer exciting opportunities with a degree of risk but with a promise of high returns.
Doing Business in Ghana
Starting or expanding a business in any country is hard work. Doing so in Ghana can be a minefield for the unwary. While the country continues to experience high growth and the government is actively encouraging new business from those beyond its shores, it takes patience, contacts, information and guidance to succeed.
To assist those in the Diaspora who have recognised this opportunity and relish the challenge, the REMADE project, run through a partnership between UK-based AFFORD and IntEnt (International Enterprise) is aimed at supporting those who are ready to start a business or a branch of their business in Ghana.
The programme is providing business advice, information and valuable networks for business owners seeking to establish a presence in Ghana.
"Overall, people have really benefited from the network opportunities," says Elvina Quaison, the REMADE Project Manager. "Businesses are given a chance through this programme to assess and have a better view of what they are doing and what they need to do to succeed."
Safety Nets
Working with REMADE has helped many businesses take a different and more effective approach to their business planning for Ghana.
"One of the key constraints people have is trying to do their research and business planning alongside regular work commitments," says Quaison.
"A benefit of having a Business Adviser through REMADE is that they help you stay motivated and keep on track and focused on your goals."
To assist those in the Diaspora, the REMADE project, run through a partnership between AFFORD and IntEnt is aimed at supporting those who are ready to start a business or a branch of their business in Ghana.
Security for the money someone wishes to invest in business is also an issue of concern for those who have worked hard to build a nest egg.
"Without a Companies House equivalent, this can be a worry for people and we offer pathways to networks on issues such as land tenure for our clients," she adds.
Starting a business is often a lonely experience and can be much worse for the business owner based in the UK and setting up in Ghana without a partner or support on the ground.
"REMADE offers you partners on the ground, including IntEnt Ghana, who supply business advisors and a business club in Ghana, and the Ghana Investment Promotion Council (GIPC) who offer support and guidance as well as official directions for starting a business," says Quaison.
'I decided to take a positive step with the guidance, experience and structure of REMADE UK… Having a support network here in the UK as well as in country offices and one to one access to business advisors with relevant experience gives me the confidence to be handheld through the necessary stages and is helping to make all the difference.'

Eugene Opoku, REMADE Client
The programme also provides direct links to those who can make the process of setting up and running a business much easier and quicker. Partners such as EMPRETEC provide business advice and have bases in all the major cities in Ghana, enabling the programme to help those setting up a business in any location in Ghana and across any sector. Links with financial institutions also offer pathways to financial advice and financing.
Making Business Work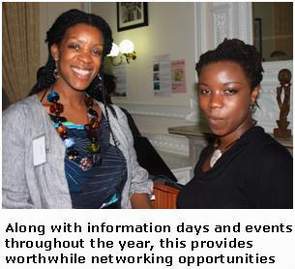 Deciding on which type of business to establish is a crucial factor in predicting success in a market such as Ghana and the REMADE programme is set up to help business owners make the right decisions, says the Project Manager.
"Knowing whether your business idea is viable and will actually work in Ghana is critical," she says. "Our advisers provide feedback and analysis of your business idea and input into it to strengthen and improve it and make it more likely to succeed."
Between advisers in the UK and in Ghana, the programme can help provide you with an international perspective and open your business not only to factors you should consider and address, but also to opportunities you may not have considered or recognised, she adds.
"Our network also enables us to help clients to find a market in Ghana for their business and to provide links to other businesses that may provide a ready market for a client's service."
Criteria
The REMADE Project could be for you if you have 50% or more of your start up costs and you are ready to start your business in Ghana now. By providing one to one business support and market research in Ghana, the REMADE project can be an invaluable support for African business owners.
Being part of the REMADE project provides a client with a business advisor who is knowledgeable about setting up businesses internationally, as well as training sessions and support to develop your business plan until it is at a point where it can be used to attract investment and support for a market research trip to Ghana.
"So far I have found the project a mixture of excitement and a good learning curve. I have in a short space of time attended the workshops which covered a lot of aspects of running a successful business and compel you to examine the viability of the idea".

Yaa Djei-Bohyen, REMADE Client 2009
The project offers two packages for entrepreneurs and, for a nominal annual amount clients will also benefit from becoming a member of the Business Club. Along with information days and events throughout the year, this provides worthwhile networking opportunities, a 15% discount on annual subscription to African Business Magazine plus a one year free subscription to African Banker Magazine, talks from leading business people, discussion forums and an online networking group.
"REMADE is about helping you to see if you have made the right decision and then helping you move your idea and yourself forward," says the programme managers. "We will work with you as an individual and help develop your business idea or business expansion."
After a long period of drifting around my business ideas I came across the AFFORD REMADE Project which took me as a Mother nurturing her baby. It helped perfect my business ideas and encouraged and enabled me to make it into reality. REMADE made the possible out of the impossible.

Philip Bentum, REMADE Client 2009
Full details of the REMADE programme and how to apply to participate can be found on the AFFORD website and via the following link:
http://www.afford-uk.org/index.php?option=com_content&task=view&id=92&Itemid=181