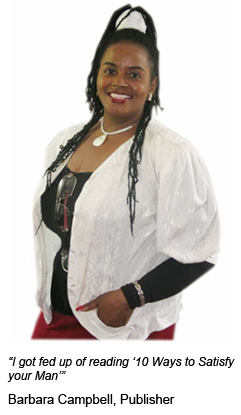 Publisher Barbara Campbell talks about the challenges and triumphs of promoting Black Heritage
The originator of the first black history month magazine, Barbara Campbell's company Barb Wire Enterprises Ltd., publishes Black Heritage Today – the best black history month magazine on the market; Live Listings Magazine - the alternative Time Out, and The Official Guide to International Women's Month magazine.
The business was launched in 2000 after the single mother of two cashed in her life insurance policy to use as seed money when the banks turned her down. The business is now at the point of going global.
ReConnect Africa spoke to Barbara Campbell about the challenges of creating a media business and where she sees the future of black media for the diaspora.
ReConnect Africa (RCA): What prompted you to get involved in the media business?
Barbara Campbell: It was never my intention to get into media. I didn't know what I wanted but I recognised what was needed and that was honest and uplifting journalism. I jut got up one day and said, 'Okay, time for a change', and completely swapped my lifestyle.
RCA: What were the key business challenges you faced in setting up new publications?
Barbara Campbell: A lack of knowledge and a lack of money. I just ran straight into the idea and learnt as I went along.
RCA: What was the inspiration behind your International Women's Month publication?
Barbara Campbell: I got fed up of reading '10 Ways to Satisfy your Man'. Especially as I didn't have one! No, really, I just thought something uplifting and inspiring and which included ALL women, irrespective of race, was long overdue.
RCA: Black Heritage magazine has become an essential requirement every October for those in the UK. What do you think the magazine has been able to achieve?
Barbara Campbell: The fact the people from ALL walks of life can comfortably read it (this includes all races including Caucasians) and be edified is a great accomplishment. The testimonies we receive regarding the quality and content of the magazine come from all over the world, so maybe we've broken down a few barriers.
"I recognised what was needed and that was honest and uplifting journalism. I jut got up one day and said, 'Okay, time for a change'."
RCA: With the explosion of online blogs and other informal media, how do you see things developing for black media?
Barbara Campbell: So long as we keep our eyes open and come up with new and witty ideas, we should be able to compete in the arena. And by never becoming complacent but by embracing new things, not as a pain, but as a welcome challenge to excel even further.
RCA: You have won several awards throughout your career but what are the downsides, both personally and professionally, of taking the decision to be a publisher?
Barbara Campbell: The downside before this used to be not having much of a life….. so nothing has changed! It's hard work; outings become networking opportunities, even at a funeral. Yes, I even took some magazines to my aunt's funeral in Birmingham. But look on the bright side: I SOLD THEM ALL!
RCA: When did you decide to set up your own business?
Barbara Campbell: It was in 2000. It was June 30th, which is my birthday, and I was working for a journalism institute. On the spur of the moment, despite being a single mother, I decided to leave right there and then. I was teaching others to write and likened it to being a ballerina teaching others to pirouette whilst wanting to take centre-stage myself.
I thanked my staff for the cake and the wine, and then asked the project manager to grant me another birthday present, which was to leave – right away – without having to work out my notice. She said yes, and the rest is history.
RCA: Why did you decide to start your companies?
Barbara Campbell: I saw the gap in the market for a multicultural 'Time Out' and decided to go for it and cashed in my insurance policy to fund it. The other subsidiary companies came about later when I realised that there were other niche gaps I could fill, along with seminars, etc.
RCA: Tell us about your publications; who do they cater to and what has the response been from your readers?
Barbara Campbell: Live Listings was well received because the other listings guides already out there, i.e. Time Out and What's On, pretended that the 'ethnic' community were not part of the landscape and the only time they'd have people of colour in their publications was when it was Bob Marley or Ghandi's birthdays.
Quite a few people tried to copy our publications, particularly the Black History Month magazine, but what pleased me was that my readers recognised that Black Heritage magazine wasn't just about 'who was the first black police man or nurse in London' but our Heritage on a global perspective. They liked the fact that whilst it looked good and was well presented, it was very grass-roots and they could identify with it.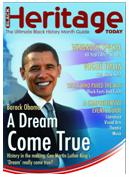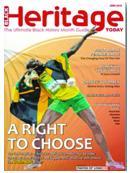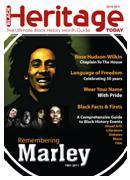 RCA: What advice would you offer to someone who wants to enter this field?
Barbara Campbell: Be passionate about it and believe that you CAN do it. My passion and self-belief have brought me through many hard times when the wolves were at the door. And do not make yourself too vulnerable. If you want to be a magazine publisher, go study journalism. That way nobody can hold you to ransom by threatening NOT to write the feature you need for page 4 – as you can easily do it yourself.
RCA: What are you working on now and how would you describe a typical working day?
Barbara Campbell: I am working on other people's magazines right now, as the contract publishing section of the business is really in demand. My typical day is liaising with designers, negotiating with printers, chasing copy – thankfully I have a lovely PA who does the admin. The rest of my time is spent either in front of the computer, on the phone or at business meetings, wheeling and dealing.
RCA: What have been the highlights of running your own business?
Barbara Campbell: The sense of freedom it gives you to do exactly what YOU want, of course with the knowledge that it is also what the readers want. I also love when the readers give me feedback. The only time I had a negative e-mail or phone call was from a race-hater who cussed me out for producing a magazine bigging-up black people's achievements and telling me to go back to the jungle to swing on trees. This went on for three years before the police tracked him down. He served two years in lock-up.
RCA: What is the hardest part of running your own business?
Barbara Campbell: Getting my own people to advertise. They seem to think that as 'we're family' they should get the space for nothing. As I tell them, 'No problem, find me a printer that will print the mag for nothing and you can have TWO spaces for free'.
"Be passionate about it and believe that you CAN do it. My passion and self-belief have brought me through many hard times when the wolves were at the door."
RCA: What has been your biggest triumph so far?
Barbara Campbell: Getting my own people to pay for advertising!
RCA: What's the most important business lesson you've learnt so far?
Barbara Campbell: You make mistakes – acknowledge them, then get over it and make sure it does not become a habit. In addition, do not tell people what you are doing until it's done, as they run away with your ideas.
RCA: What, or who, inspires and motivates you?
Barbara Campbell: Nobody. I motivate myself. But if I have to say who has impressed me the most, it has to be my mother – sadly she's no longer with us.
RCA: Fast forward five years, where do you think your businesses will be in 2016?
Barbara Campbell: Internationally known and run by others for me whilst I swan off to marry a toy-boy and go on cruises! Or, knowing me, deep in the African bush interviewing people under threat of homelessness.