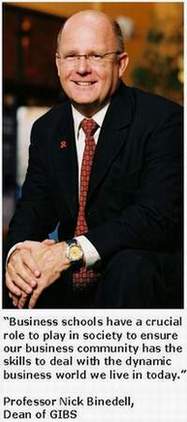 Now firmly established as one of South Africa's top ranked business schools, GIBS is focused on developing the management skills in demand by companies in Africa.
The Gordon Institute of Business Science (GIBS), established in South Africa in 2000, is a business school with a difference. In the words of its Dean, Professor Nick Binedell, the ethos for GIBS is to be "a place where people with potential, healthy ambition and respect for best practice are willing to engage like-minded peers and colleagues."
GIBS prepares future executives to address the challenges of business in South Africa and helps current managers upgrade their skills through academic and executive programmes. It was recently ranked 67th out of 100 business schools in the Financial Times Executive MBA Rankings 2011 – the only business school in Africa to appear in these rankings. In May 2011 GIBS was again ranked as one of the top 50 providers of executive education programmes globally. Again, the only African business school to be ranked in the top 50.
ReConnect Africa caught up with the School's busy Dean to find out more about what sets this business school apart and its mission for business leaders in South Africa.
ReConnect Africa (RCA): What do you see as the key challenges facing South Africa in the next five years?
Nick Binedell:The central question for us in South Africa is how to generate a high level of economic growth over the coming years. We have a lot of challenges but the key questions are can we create more employment, can we narrow inequality and support our citizens in a fast-changing world?
RCA: What differentiates GIBS from other business schools within South Africa?
Nick Binedell:GIBS is a general management school that is close to business. We are ideas driven and we have a practical approach to the way we operate. I, myself, was a general manager in the past and really enjoyed the challenges involved. I see education as a way of learning to do business.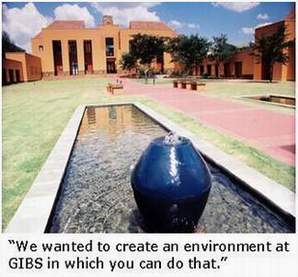 South Africa has been the most extraordinary country to work in and for us at GIBS, the idea was that we could make a material difference to companies if they would come and work with us. We have also enjoyed incredible support from people including, of course, Donald Gordon.
He is an important benefactor and a brilliant businessman. Donald is extremely generous and one of South Africa's biggest philanthropists and has made contributions to the country's public schools and other training facilities.
RCA: What role do you see GIBS playing in improving skills and productivity within South Africa's management cadre?
Nick Binedell:This comes back to the notion of competitive performance. I believe strongly in creating an ethos of competitive performance – that is, the idea that you can accelerate your performance and ramp up your game by really thinking harder about what you do now and what you need to do next. We wanted to create an environment at GIBS in which you can do that.
RCA: What factors do you think accounted for GIBS recently achieving a ranking of 67 in the FT Executive MBA rankings?
Nick Binedell:The MBA has been our flagship programme ever since we opened. We were restrained from rankings until our first graduates had been out of the school for five years. I would say that what our students have accomplished in that time is good evidence of our work and their satisfaction with GIBS – which leads to the rankings.
I'm very excited about our alumni; we have over 1,000 alumni - many of who are very senior in big organisations across different sectors. We track them and we keep on working with them and I think they see the MBA as a lifetime experience.
Another factor is that we are a globally-oriented business school and our students are required to complete a compulsory global module as part of the curriculum. This is a distinctive element of the GIBS MBA programme in that it provides students with global exposure in a destination that is linked to global best practice and allows students to study first-hand how their peers in diverse markets operate. Inputs from international faculty at leading business schools, site visits to multinational companies and exposure to new and vibrant cultures makes for an enlightening journey.
GIBS has a proven track record in making a contribution to management development in South Africa and ensuring that current managers develop their skills to confront the emerging national and global challenges.
Our MBA programme is a tough one and we don't compromise on our standards. We have 240 high-calibre MBA students a year selected from a large pool of applicants and we don't admit anyone if we don't think they'll do well or are committed to doing the work involved.
RCA: What are the challenges for business schools in Africa in the face of such rapid economic changes within the continent and the rise of the newly emerged BRIC economies?
Nick Binedell: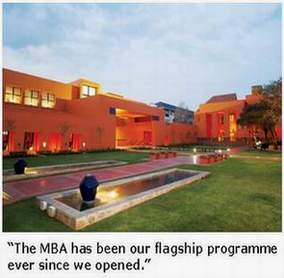 The ever-changing global market, rapidly evolving new technologies and challenging business environments are just a few of the issues facing business.
The challenges we face – and the opportunities they provide – will require a new set of insights and skills to those in a prosperous economic climate. There are huge opportunities for business schools in Africa at this time.
As the world becomes more and more interested in Africa and as investment into the continent grows, companies are looking for excellent managers with good business and leadership skills. Business schools have a crucial role to play in society to ensure our business community has the skills to deal with the dynamic business world we live in today.
RCA: How does GIBS intend to sustain and build on its success in the coming years?
Nick Binedell:Since GIBS' establishment in 2000, the School has continued to grow significantly – both in the numbers of people coming through its doors each year and in its academic offering. As 2012 gets underway, the School is entering a new phase of growth.
FAs a school, we are increasingly global and, in the last year alone, we delivered 103 programmes for 65 organisations across the private, public and NGO sectors in 23 countries.
GIBS has a proven track record in making a contribution to management development in South Africa and ensuring that current managers develop their skills to confront the emerging national and global challenges.
Furthermore, we have recently changed our management structure. I am now the Dean of GIBS and we have appointed a Director, Jonathan Cook, giving us more capacity in the leadership team. We are fortunate in having a strong and stable leadership and this helps us to continue to give good value in what we do and how we deliver our programmes.
This new structure will help to ensure that our ongoing efforts and commitment to impact and contribute to the performance of individuals and companies that choose to work with us are achieved.
To find out more about GIBS and the courses on offer, visit: www.gibs.co.za