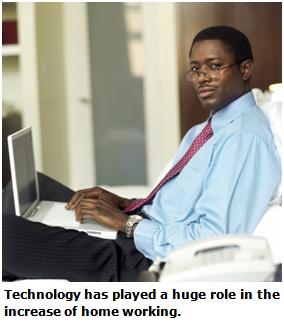 Working from home has become an increasingly popular option.
Tolulope Popoola
explores the trend and offers some advice on making it work for you.
For many people the thought of working from home is a very attractive one. Especially if you have no choice but an over-priced, horrible ride on your commute to work in overcrowded trains, or if you have to leave home three hours early to beat the traffic just to be at work on time, or brave treacherous weather conditions daily or an unreliable bus network that gets you home late almost every day.
You might just be tempted to quit the journey and work from your living room.
Or perhaps it's not just the journey to the office and back. What about the time spent there? Maybe the office is too hot or too cold, but you can't complain because of your colleagues. Or maybe you can't stand the gossiping and chit-chat when you're trying to concentrate? Perhaps it's the annoying constant ringing of the telephones that give you a headache?
The good news is that if you work in a non-contact industry - such as accountancy, translation, data entry, writing, sales, editing and proof-reading, graphic design, illustration, insurance, media buying, speech-writing, research, sales, travel agency, stockbroking, website design and so on - you may just be able to convert a part of your home into your office and work remotely.
The Increased Trend for Home Working
Many entrepreneurs also work from home for many reasons - to combine it with bringing up a family, to save on the costs of renting an office, to effectively control their working hours, reduce their commute, or as a launch-pad for a growing business.
And more and more people, it seems, are doing it. According to the official Labour Force Survey, in the spring of 2009 there were 691,000 British home workers (working mainly in their own homes, using both a phone and a computer) compared with 582,000 three years earlier.
Working from home does have many benefits. Home workers can reduce the need for expensive premises and they are often more productive. BT claims it gets an average of 20% more work out of its 10,000 staff who are home workers. They also claim that their staff members who work from home have reduced sickness absences and high levels of performance.
Home working also encourages a more diverse labour force by bringing in women and carers who have difficulty travelling because they have to be near the people they are looking after. It can also benefit disabled people or those living in remote locations.
Working from home does have many benefits. Home workers can reduce the need for expensive premises and they are often more productive.
Then there's the reduction in transportation costs, pollution and greenhouse gases. According to Telework Exchange, an organisation promoting the practice, an employee who works from home three days a week can save $5,878 (£3,775) a year on commuting costs and spare the environment 4000 kilograms of pollutants.
The Technology Factor
Technology has played a huge role in the increase of home working. It is now so much easier than it was ten or twenty years ago. Turning a small part of your home into an office, or fixing up your computer so that you can work remotely on a full or part-time basis is not hard. There are many different types of video conferencing software, Blackberry devices, online networking and collaboration software, mobile and online office packages and 24/7 emails that make it possible.
So if you are interested in working from home as an employee, how do you propose it to your employer? In the UK, if you have a child under 16, or 18 if they are disabled, your employer is legally obliged to consider your request to work flexibly, which could include working from home for part of the week and/or changing your hours. They must also consider an application if you are caring for a friend or a family member. You can still approach your employer even if you don't have any dependants, but you can present a strong business case.
Working from home may not be an option for everyone. For a start, there are some industries where the job requires you to be physically present, such as healthcare, teaching, emergency services, transportation, construction and so on. Workers in such industries cannot do their jobs outside of the workplace.
Some employees also claim that working from home makes them feel isolated. Without the constant interaction with colleagues in the workplace, working from home can seem like a lonely prospect. It can make them lose their creativity because they don't have any one to bounce ideas with. It can also make them feel like they are missing out on career advancement prospects because they are disconnected from the rest of the workplace.
can feel pressured to keep working even after you should have finished for the day, if for example your boss sends you an email at 10pm.
And some people want to have clear boundaries between their work and personal space. People who work from home may feel like their work starts to encroach on their personal time and space, and they cannot 'escape' from the office, because it's right there all the time.
If working from home still seems like your cup of tea, here are some tips to help you make a success of it:
Set up a dedicated workspace away from personal space:
Working from home can make differentiating between work time and leisure time a challenge. If possible set up your office in a separate room of the house. This way you can shut the door when you want to concentrate, and keep distractions out. You can also close the door on work at the end of the day, and go to a different place to relax and switch off. If you can't spare a whole room, try to partition off a section of the room you use the least. Keep your work area away from the kitchen or the television. A good source of light is essential and natural light will increase your productivity and help to keep you alert. Position your desk near a window and keep a lamp on your desk with the switch in easy reach.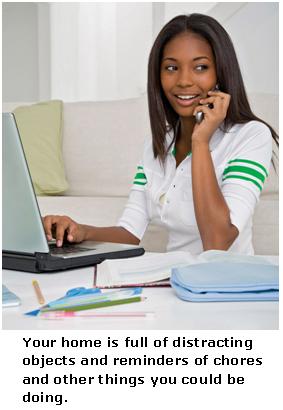 Get into a routine:
Most people work to standard office hours and recreating these at home can help to keep work and home life separate. Get up, have a shower, get dressed and eat breakfast. Try to work out roughly enough hours in the day to do your work, and be consistent with starting and finishing around the same time each day. Don't forget to take a proper break for lunch too. Avoid the tendency to run errands, have visitors, talk with friends or family or do things around the house during your office hours.
Set boundaries:
If you have a family member at home that requires care, that person may expect you to be more available for care giving because they see you at home. You would need to be firm with letting them know when you are available and when you're not. You would also need to set boundaries for young children who will try to disturb you when you're supposed to be working.
Limit distractions
Working from home is an exercise in avoiding distractions. Your home is full of distracting objects and reminders of chores and other things you could be doing. Clear your workspace of all but the essential items. Don't keep personal clutter around your desk. Keep the television and radio off and if necessary, turn off the sound on your mobile phone, chat and email notifications. Avoid your kitchen or bedroom during your working hours, temptation to procrastinate with work are always there.
Invest in the right equipment
Setting up a home-office can be expensive, so you'll need to prioritise. At the very least, you'll need a comfortable chair and desk. Find one that supports your back, and make you're your computer screen is high enough. You may also need other office equipment like a telephone line, printer, scanner, and fax machine. If you can persuade your employer to set these up for you at home, great. If you have to pay for them yourself, choose wisely and buy the best you can afford.
Working from home doesn't suit everybody, but most people would benefit from trying it at least part-time. If you enjoy what you do, you may be even happier doing it from the comfort of your home. But, in any case, the advice for home workers is the same as it should be for everyone. Work when you're paid to; don't when you're not. If the trend in entrepreneurs and employees opting to work from home continues to increase, perhaps one day, going to the office will start to seem optional!
Tolulope Popoola is a writer and blogger. She recently left her career in accounting to become a full-time writer. She is the author of the soon to be released novel, "Nothing Comes Close". She also writes short stories, flash fiction, poems and magazine articles. Her blog is at http://writingmystories.blogspot.com