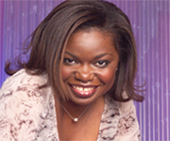 I was educated ……
... all over the place! In Kenya, at Lavington Primary and St George's Primary schools. In between that, a 3-year stint in the US, at Roosevelt Elementary School in Ames, Iowa; in Nigeria, the Navy Primary and Secondary schools, back to Kenya and the Bunyore Girls High School. I went on to do my BA in International Relations at the United States International University in Nairobi, Kenya, graduating with honours. I then won a scholarship and teaching assistantship for an MA in Journalism and Public Policy at the American University in Washington, DC.
Uduak Amimo is a Senior Producer and Presenter of the BBC African flagship programme, Focus on Africa.
She chose to become a journalist after becoming frustrated with the images and stories about Africa while in university. She has worked in a number of journalistic roles with renowned international media organisations; Reuters, Voice of America and now the BBC World Service.
Uduak strongly believes in the power of education and mentoring to change lives. She was recently named as one of East Africa's most influential women by an East African magazine.
My first job was ……
... Assistant Producer, Reuters Television in Kenya.
What I do now is ……
... present, produce and edit radio programmes for the African News and Current Affairs section of the BBC World Service.
What I learned along the way is ……
... lots of things.
Believe in, respect and value yourself, surround yourself with people who believe in you, value you and bring out the best in you.
Be a constructive and positive influence to others.
Know yourself and your values and what motivates you. If you don't know yourself, you're open to aimlessly wandering through life and being manipulated.
Follow your heart - have a dream, purpose and a vision and pursue them relentlessly!
Have and keep your faith!
Always make time to be alone with yourself, clearing your mind and spirit of the clutter we imbibe daily.
Give something back; to your family, community, country etc.
My greatest influence has been ……
... a number of people but my late Uncle, Professor Reuben J Olembo tops the list. He believed in me, valued me and brought out the best in me. A few of my university professors who pushed and prodded me, like Dr Cathy Powell and Professor Korwa Adar, and wouldn't let me rest on my laurels.
The best advice I ever received is ……
... "When one door is closed, another is opened." It's not always obvious, though, when your gaze is fixed on the door that's just slammed in your face! From the Bible, "All things come together for the good of them that love the Lord".