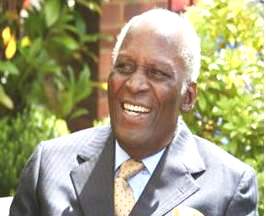 University Don and International Development Consultant
I was educated at....
.... Achimota College in Ghana followed by Kings College Cambridge, where I read Classics.
My first job was....
.... teaching Latin at Achimota College in Ghana between 1947 and 1948, before being invited by scholarship to attend Cambridge University.
Professor Alexander Adum Kwapong was educated at Achimota College in Ghana and Cambridge University, UK, where he graduated with First Class Honours in Classics in 1951. He joined the faculty of the University of Ghana in 1953, received his Ph.D. in classics in 1957 and became a full professor in 1962. Professor Kwapong taught Greek, Latin and Ancient History at the University of Ghana for more than a decade and served as Pro-Vice-Chancellor, working alongside Connor Cruise O Brien, the then Vice-Chancellor, and, in 1966, became the first Ghanaian appointed as Vice-Chancellor.
In 1961-62 he was Visiting Professor of Classics at Princeton University, U.S.A. which awarded him an honorary degree in 1974.
In 1976, he joined the United Nations University in Tokyo, Japan as Vice-Rector for Institutional Planning and Resource Development. This was followed by 3 years as International Development Professor in Dalhousie University, Canada and 2 years as Director of Africa Programmes for the Commonwealth of Learning, encouraging the development and sharing of open learning/distance education knowledge and became a leading spokesman for higher education in the British Commonwealth.
A classicist and an authority on higher education in development, Professor Kwapong also holds honorary degrees from the University of Warwick, UK, and the University of Ife, Nigeria.
He was awarded the 1981 Simba Prize for Scholarly Essays (Rome) and is the author of many articles in scholarly journals.
Professor Kwapong has served on numerous boards, including the Aspen Institute for Humanistic Studies and the International Council for Educational Development, the Association of African Universities, the Association of Commonwealth Universities (President, 1971), the International Association of Universities, and the International Council for Philosophy and Humanistic Studies (Vice-President) and was Chairman of the Education Review Committee of Ghana.
After his retirement, Professor Kwapong was appointed as Chairman of the Council of State of Ghana, an advisory body for the President and government of Ghana.
What I do now is....
.... after a long series of careers, I am now retired and, in between dealing with and being dealt with by doctors, I have embarked on writing my memoirs.
What I learned along the way is....
.... that the minimum qualification to be a good leader is not intellectual capacity but the capability to work with people, the modesty to understand ones own limitations and to do ones homework. As the first Ghanaian Vice-Chancellor of the University of Ghana, I learned from ten years in that job that the most important things are strength of character, the courage of ones convictions and the integrity with which to face issues. In a period of change, the most important thing is to do what you think is right and to face up to difficult and unpopular decisions. So long as you have done your homework and are clear in your own mind that you have done the best you can, realising that you will not please everybody all the time but that, in the long run, you will have justified your position.
My greatest influence has been....
.... my grandmother, a very wise person, who looked after me from the age of 7 through junior and middle school. Being the daughter of a Presbyterian priest, she had been raised with traditional values. She insisted that one has to accord respect to your elders and colleagues, to be honest and do your very best. She also taught me to understand that learning and knowledge is one thing, but wisdom is another; that book learning is not the same as wisdom, but that schooling enables you to have the focus to understand the world around you.
The best advice I ever received was....
.... was from my grandmother and my parents; to be honest, work hard and do one's best. Also to realise that if you are doing your best, you will not be very popular with everybody!