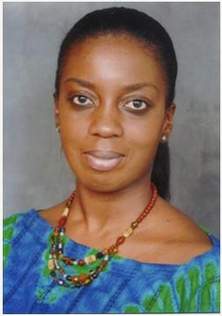 Susan Mensah
Artist & Project Manager
I was educated at....
....Birkbeck College at the University of London and obtained a Certificate in Legal Studies. I went on to Roehampton University and obtained a Bsc Hons in Human Rights & Social Anthropology. I furthered my studies at the Institute of Education and obtained an MA in Education, Gender & International Development.
My first job was....
....at an Interior Design company in London – Elizabeth Eaton. I was always interested the arts and I am a self-taught artist. As such, I have always been interested in pursuing a career which brings out my innate creativity.
What I do now is....
....I am a contemporary artist and member of the Worple Group of artists in London. Since 2009 I have worked with Art Works for Change, merging my love for the arts with my interest in human rights and social justice. I work as Project Manager for our projects in Africa and the developing world. Art Works for Change is an NGO which produces travelling contemporary art projects that address social and environmental issues. We use the transformative power of art as a tool to build awareness, invite conversation, and inspire action, creativity and thought. Through partnerships with our host communities — museums, grassroots organizations, advocacy and educational institutions around the world — our exhibitions serve as both crucible and catalyst to galvanize support and action around our most pressing global issues.
Susan Mensah has worked with international development organizations both in the UK and Ghana and has been involved in a wide range of initiatives to promote human rights and gender equality.
Over the past 6 years, she has been involved in a range of gender, education and health related initiatives in conducting research for various organizations such as UN Women, The Foundation for Women's Health, Research and Development (FORWARD), Navrongo Health & Research Centre (NHRC).
She has also worked with Plan UK assisting with organizational and operational gender mainstreaming work, gender audits and providing assistance on the 'Building Skills for Life' project - a PPA grant funded by DFID.
As Project Manager at Art Works for Change, Susan is responsible for the coordination, management and implementation of exhibitions in the developing world.
She has implemented several projects including Off the Beaten Path: Violence, Women & Art in Dakar, Senegal, The Oware Game for Female Empowerment in Cape Town, South Africa and in 2012 she will be implementing a project in Nigeria to address public health issues and implementing Nature's Toolbox, a biodiversity and climate change exhibition in Ghana in 2012.
Her particular interests, both as a practitioner and scholar, are in gender, health and education. Her hobbies include art, reading and travelling.
What I learned along the way is....
....it's never too late to pursue your dreams. Although there were challenges for me in being a mature student, having maturity and life experience counts for a lot and may make you an even more focused individual as you pursue your chosen career.
My greatest influence has been....
....so many in my life but, career-wise, I have to acknowledge Mr Bernie Hamilton - human rights activist and former lecturer at Birkbeck College. He encouraged me to study human rights and inspired me to believe in myself and my passion. Despite the fact I was a mature student he urged me to further my education. Bernie Hamilton was the embodiment of resilience and perseverance. His passion never waivered despite the fact that he was suffering from terminal cancer.
The best advice I ever received is....
....'quitters never win and winners never quit'.
My top tips for succeeding in my career area are....
....dream big, and then attain the skills and expertise to achieve excellence and success. Success does not happen by chance. It really comes about when preparation meets opportunity. Do everything you possibly can to be prepared so that when the right opportunity presents itself, not only will you recognize it, but you will also be in a great position to take advantage of it.